Welcome to Creative Kids Academy
Coon Rapids Location Opening Soon!
Thank you for your interest in Creative Kids Academy. We are an accredited Early Childhood Education provider with 10 locations serving the Twin Cities Metro Area. We serve children 6 weeks to 12 years of age.  Please explore our website for more information about our programs and schedule a tour.
Imagine the Possibilities at Creative Kids Academy…
Highest

 Accreditation

Achievement
Creative Kids Academy takes immense pride in what we do.  Children are our passion.   Eight of our locations are accredited through NAEYC. Nine of our locations also have the highest rating through MN Parent Aware at 4 stars.
Our remaining locations are in the process of achieving accreditation and the 4 Star Parent Aware rating as well. We are now using ProCare Connect at all 10 of our locations.
Call one of our locations today for enrollment availability.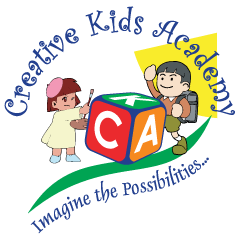 C

K

A

Announcements
We are excited to announce we are in the process of opening a new Coon Rapids location in June and are now accepting new enrolling all age children and accepting job applications for all positions.  
Coming soon our newest location in Coon Rapids!
We are now using ProCare Connect at all 10 of our locations.